Using Digital Twins to Integrate 5G into Production Networks
5G becomes an important part of the infrastructure of the factories due to its performance, flexibility and tailored solutions for factory automation and connected industries. 5G-ACIA has worked on how industrial 5G system is integrated within factories following the I4.0 principles. Asset Administration Shell (AAS) is a key component of the Industrie 4.0 architecture to ensure integration across system boundaries and interoperability across the value chains. It supports the notion of working with "digital twins" of all assets of a factory. Two new types of digital twins (AAS) are proposed with respect to the 5G architecture called 5G network AAS comprising of 5G Radio Access Network and 5G Core Network and an independent AAS model for the 5G User Equipment (5G UE AAS).

This white paper provides an overview of how industrial 5G supports the implementation of Industry 4.0 concepts. One important aspect is integrating 5G into Industry 4.0 by defining 5G Asset Administration Shell (AAS).
The concept of Asset Administration Shells is becoming a key building block for the factory of the future. These are about to be standardized within the scope of the International Electrotechnical Commission (IEC), and a new organization called "Industrial Digital Twin Association" is being established by ZVEI and VDMA to drive the implementation of AAS and its commercial success. Integrating a 5G system into the factory of the future requires a suitable description of the 5G system based on AAS principles. In this paper, various aspects are discussed and a model proposed for a structured description of the overall 5G network and the 5G UE (user equipment).
This paper also formulates tentative definitions of submodels and parameters/properties based on the currently valid 5G definitions of 3GPP.
It provides an initial list of properties, parameters and information of the 5G AAS sub models. It lists the most important information required to describe a 5G network and the 5G UE (User Equipment) for all phases of the life cycle of an industry. Additional interfaces are proposed between the 3GPP 5G system and the AAS repositories.
5G become a fundamental part of the communication infrastructure for connected industries and needs to be integrated into the digital twin to improve the engineering, operation and maintenance. Well defined AAS submodels for the 5G Network and 5G UEs are pre-requisites for the efficient integration of industrial 5G as part of the factory infrastructure and solutions.
in future all of the entities are empowered to initiate (horizontal) interactions with others. An active AAS therefore possesses service-oriented communication capabilities and decision-making functionalities.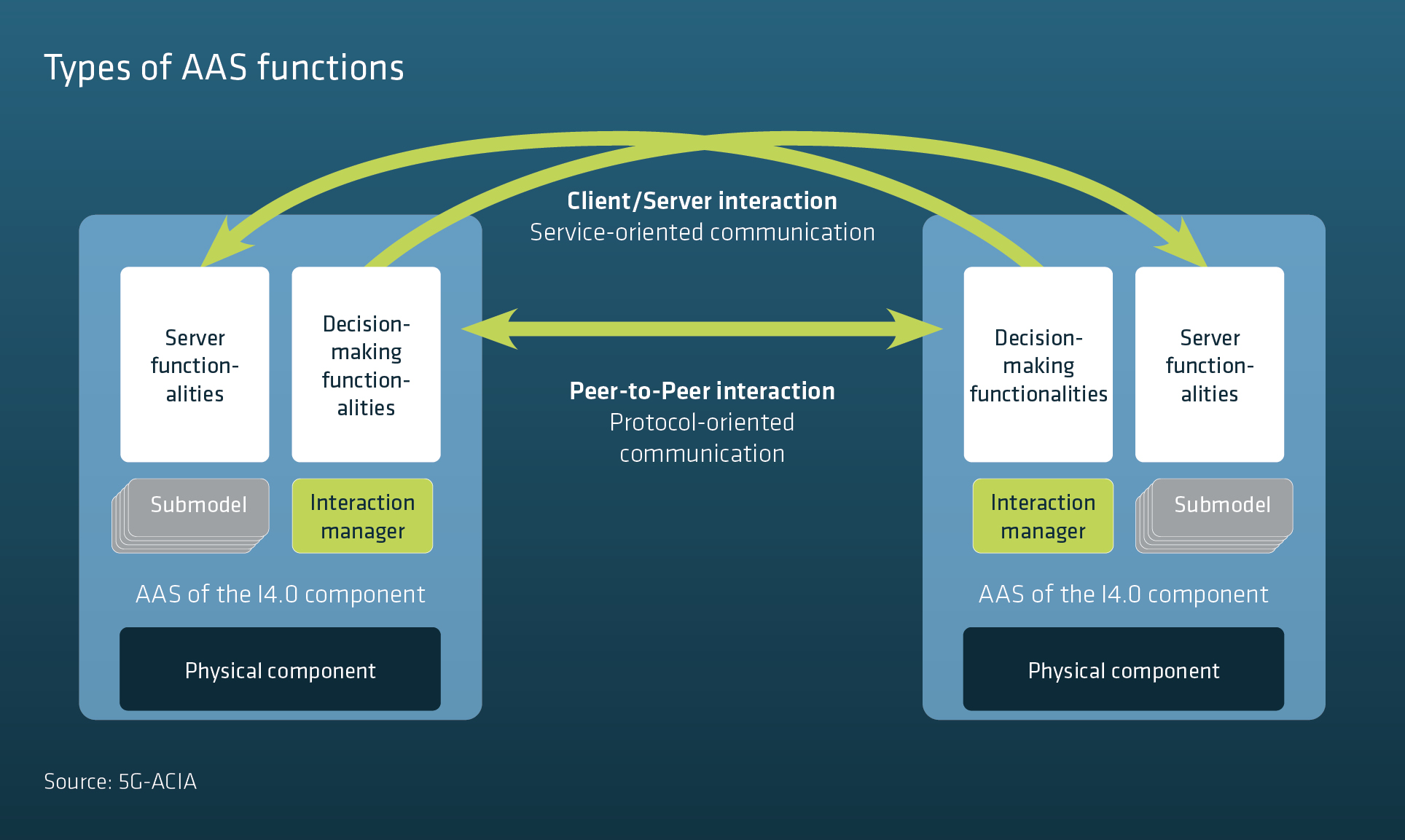 Information captured by the 5G AAS must be managed by different teams during the various process steps. The figure shows, on a tentative basis, which parts of the 5G network AAS are managed by which stakeholders.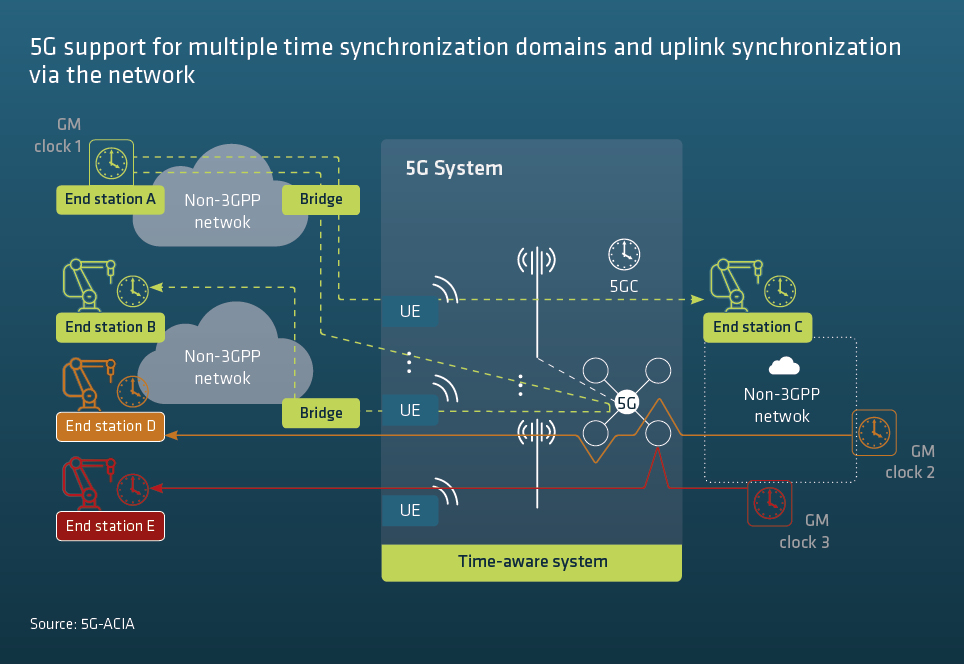 5G UE AAS and 5G Network AAS has interfaces to the 5G network and 5G UE and consists of a passive part, an active part, and a message interface that supports Industry 4.0-compliant communication with I4.0 components.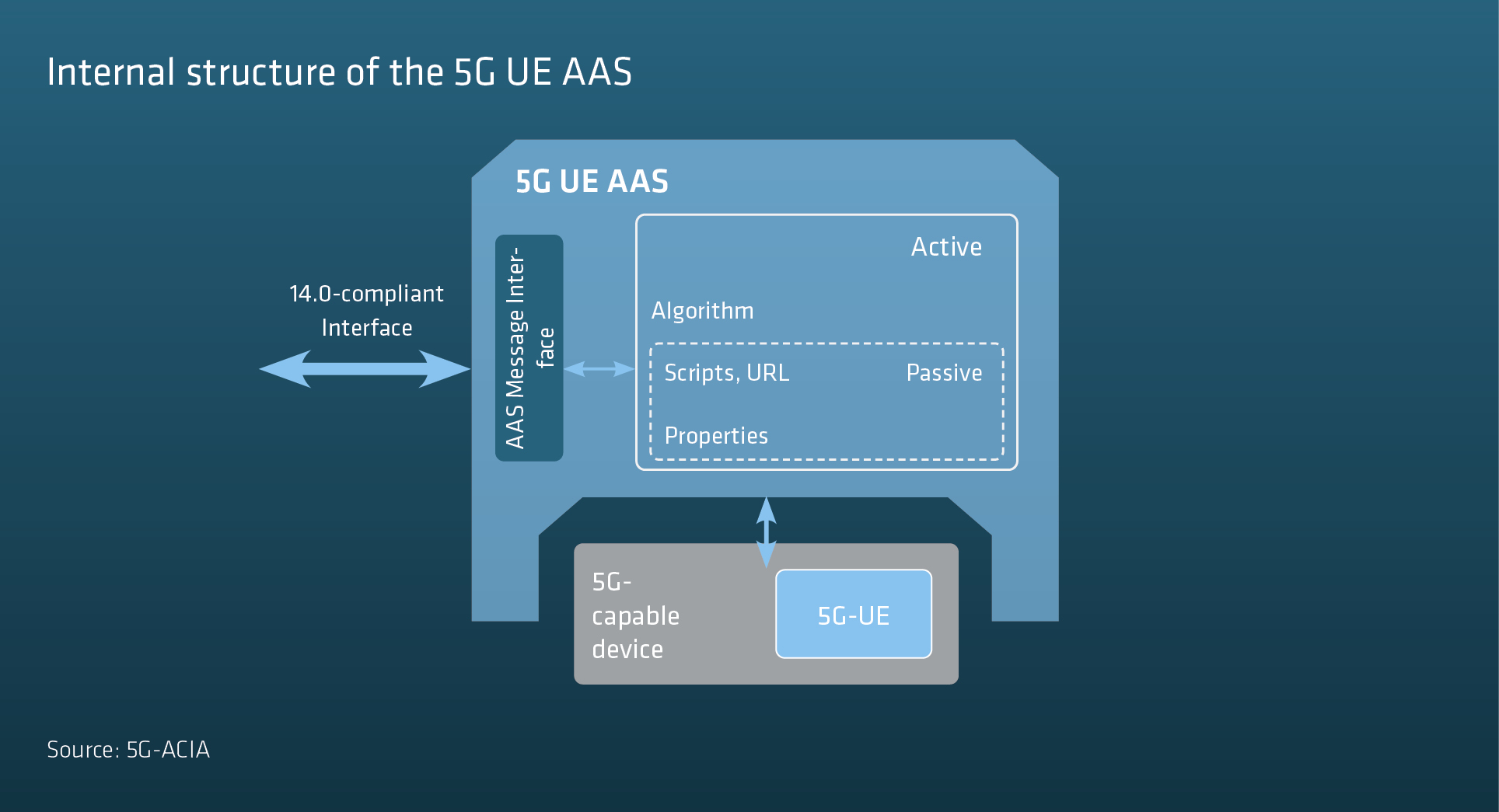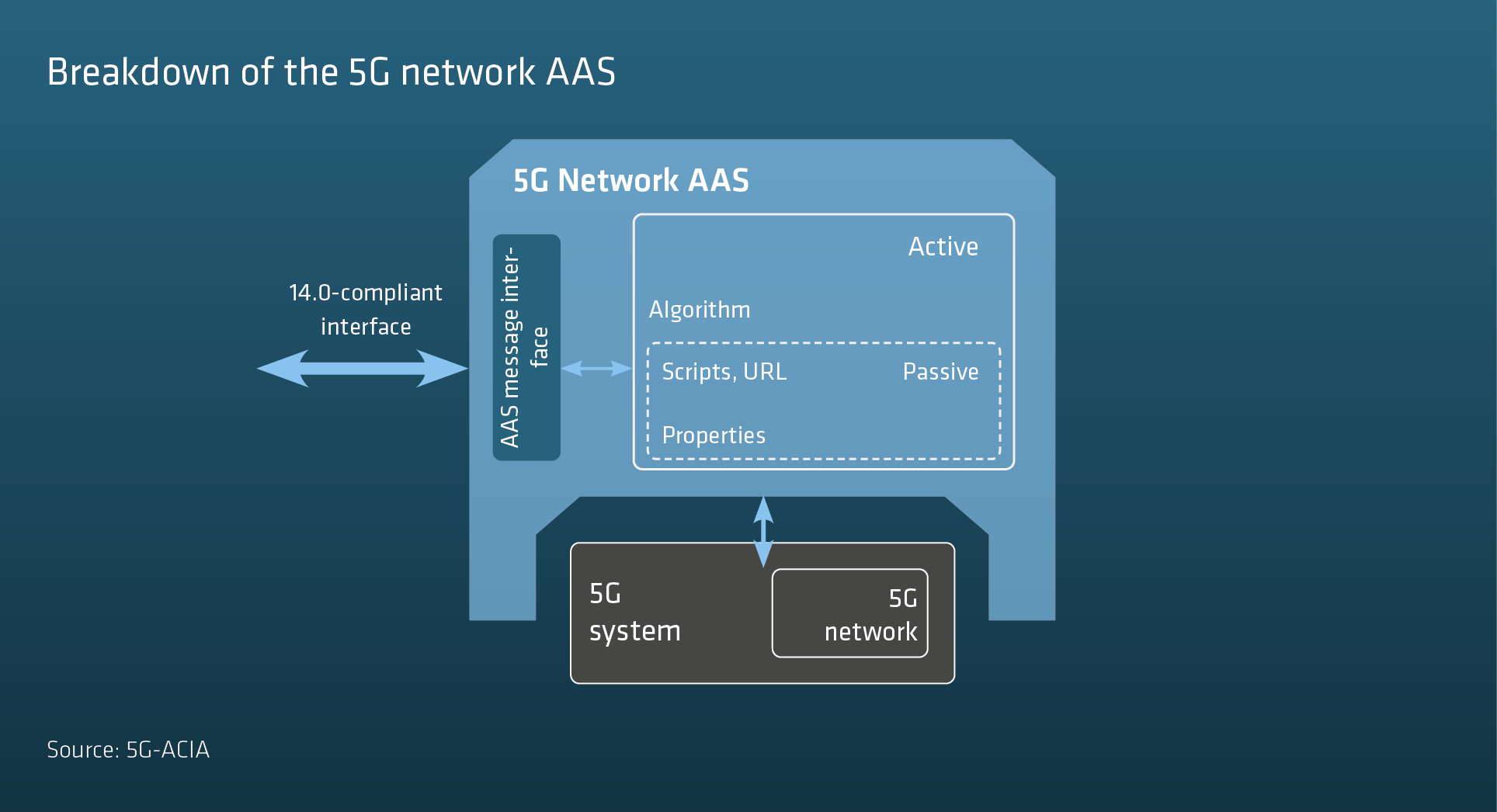 This white paper provides an overview of how industrial 5G supports Industry 4.0 principles with highly flexible and secure communication links across a factory hall or entire manufacturing facility.
A prerequisite is integrating 5G into Industry 4.0 by defining 5G Asset Administration Shell (AAS). Different aspects are discussed and a model proposed for creating structured descriptions of an entire 5G network, including 5G UEs. It is suggested that the dialog initiated with the expert groups of Plattform Industrie 4.0 be continued in order to work out the details of an AAS model for a 5G system. Several meetings with experts of the Models and Standards working group of ZVEI have identified topics in need of further clarification. Additional analysis is required of bootstrapping (i.e. onboarding), responses to dynamic changes to the 5G infrastructure, and functions that are performed over the lifecycle. More valuable findings are expected as outputs of the work items on the OPC UA integration with 5G and elaboration of new service level agreements for 5G for Industry 4.0.
A new extension of the AAS, called "active AAS", is also currently being discussed within the scope of the Industry 4.0 standardization activities. This active AAS would support and perform self-optimization of the overall factory network and processes, e. g. dynamic QoS negotiations. It would also include wireless connections and may require greater interaction of the factory and 5G networks. One of the goals in connection with Industry 4.0 is to unify the control and management of production systems, and a 5G system may become an integral part of this, being managed and controlled by factory network management systems.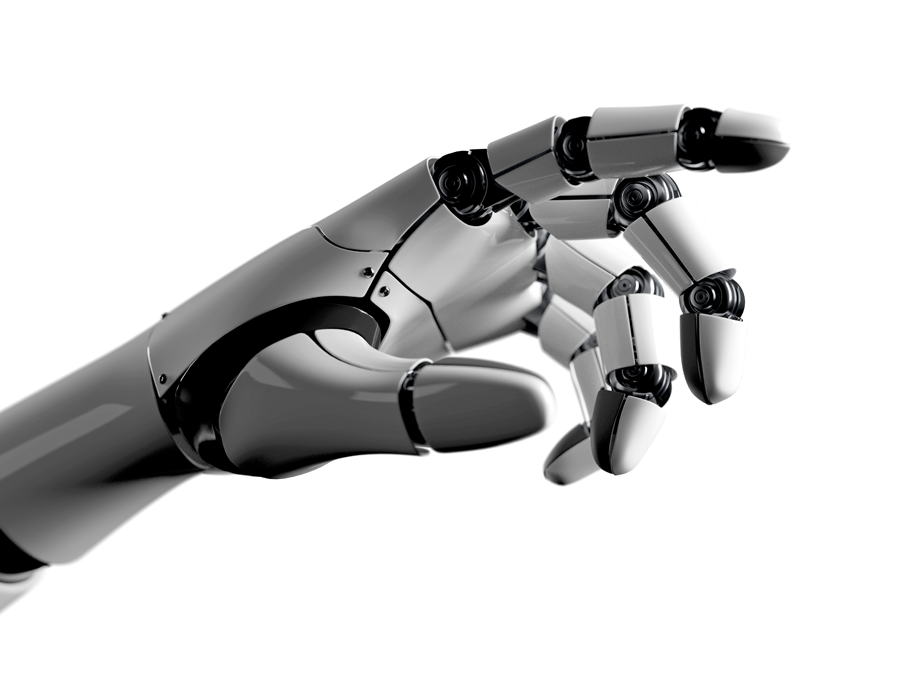 We have awoken your interest?
Do you want to learn more about this future-oriented topic? Please download or share the 5G-ACIA white paper as a PDF file.
Exposure of 5G Capabilities for Connected Industries and Automation Applications
This white paper describes the functional requirements for exposing the capabilities of non-public 5G systems to industrial factory applications. Via exposure interfaces, industrial applications can access and can manage 5G service capabilities. Industrial applications also monitor e.g. the QoS of communication services and the network status. Due to the generic nature of the exposed capabilities, it is also possible to support other use cases that share the requirements of industrial factory applications. Examples include control applications for rail transportation, electrical power distribution, and central power generation. ...
Integration of 5G with Time-Sensitive Networking for Industrial Communications
The white paper looks at the standards specified for 5G by 3GPP and the standards specified for Time-Sensitive Networking by IEEE and describes how these two standard technologies can be integrated for industrial communication. ...
Security Aspects of 5G for Industrial Networks
5G security as an integral part of secure industrial operations. ...